AUTOMEC SILICONE BRAKE FLUID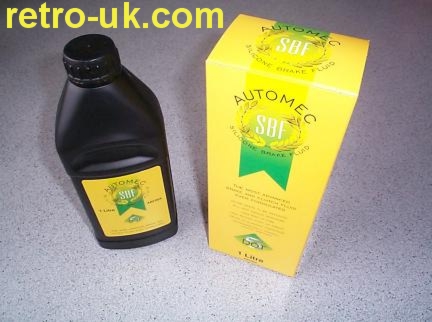 AUTOMEC BRAKE FLUID IS THE MOST ADVANCED BRAKE AND
CLUTCH FLUID YOU CAN BUY.
Because Automec's silicone Break Fluid repels moisture, unlike standard polyglycol brake fluid, it never needs changing.
Rust and corrosion are inhibited because moisture is kept out of the system, and the high boiling point of 260ºC (500ºF)
is maintained throughout the life of the product, ensuring consistent, long term, safe performance.
Automec Silicone Brake Fluid:

Lasts a lifetime
Will not catch fire
Guarantees consistent performance
Will not damage paintwork

Normal polyglycol brake fluid:

Needs changing regularly
Is highly combustable
Can give inconsistent performance
Can damage vehicle paintwork
Automec's DOT5 Silicone Brake Fluid conforms to the highest acknowledged standards, the US Department of Transportation
(DOT)5 standard as well as the Federal Motor Vehicle Safety Standard (FMVSS)116 and US Military Standard MIL B46176
and has been standard issue in US Military vehicles for over 15 years.
So maybe it's time that you put Automec Silicone Brake Fluid in your braking system.
It will save you money, and it could save your life.
£37.50 per litre bottle
+ £7.95 postage
UK BUYERS ONLY